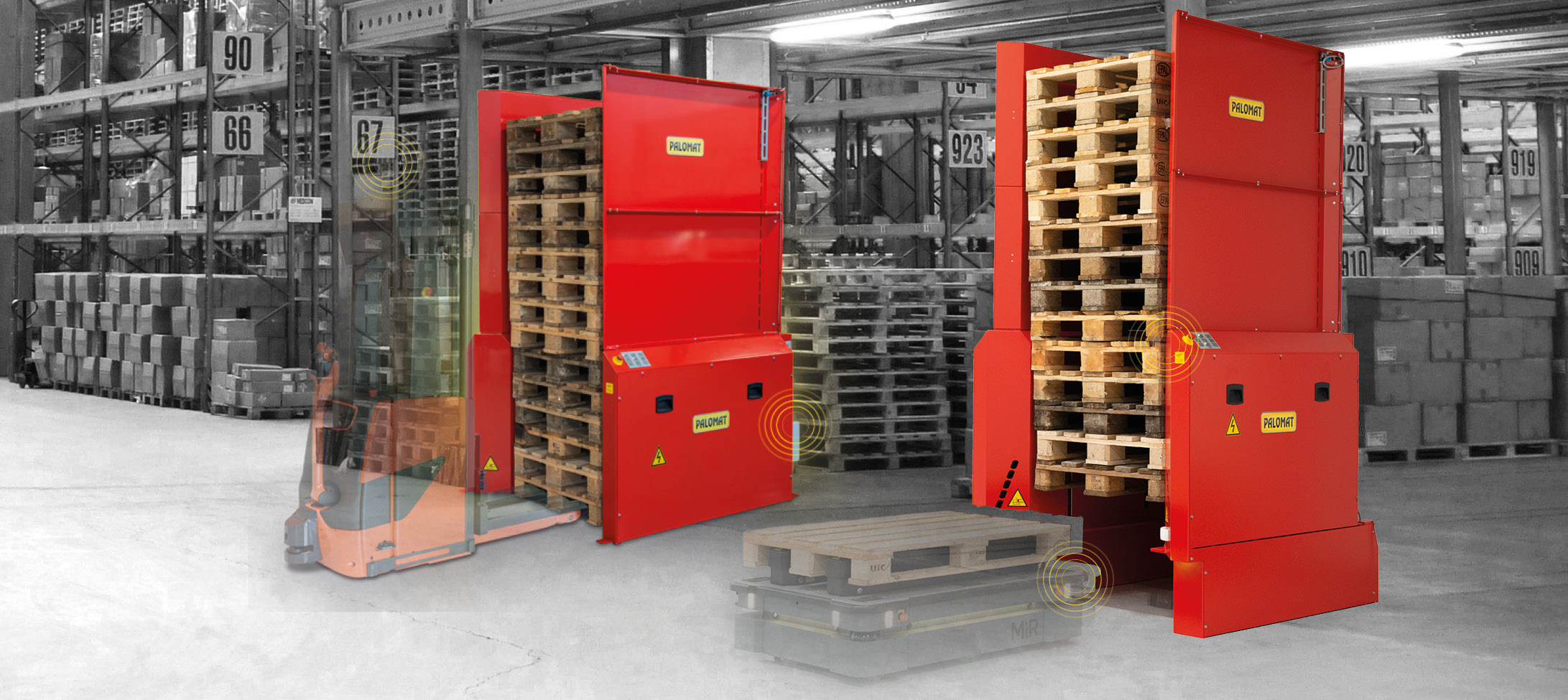 PALOMAT® AGV
PALLET STACKING AND DISPENSING UTILISING DRIVERLESS FORKLIFT TRUCKS
The PALOMAT® AGV Pallet Dispenser is specifically built to work with Automated Guided Vehicles to automate the stacking and de-stacking of empty pallets.
The PALOMAT® AGV is designed to communicate independently with your fleet of driverless forklift trucks and maintain a constant and effective flow of pallets to and from the production line.
PALOMAT® AGV simultaneously also ensures uniform docking and if the PALOMAT® AGV is empty or full, it will send a signal to the driverless forklift truck, which will automatically ensure that the PALOMAT® is filled or emptied.
Why PALOMAT® AGV?
Integrated AGV interface with 24VDC I/O signals for external equipment
Uniform docking and floor level stacking and de-stacking
Optionally supplied with or without software (a complete program within the PLC)
Your choice between a 100% electric or a pneumatic version
Optional 'Cold Environment' version for use in environments down to –25°C
Communicates with a wide range of driverless forklift trucks
Supplied with comprehensive instructions and documentation
Fast and Simple, Australia-wide installation and reliable service supplied by BBJ Materials Handling
PALOMAT® AMR
TWO-WAY COMMUNICATION WITH AUTONOMOUS MOBILE ROBOTS
The future of Automated Pallet Handling is here. The PALOMAT® AMR is a revolutionary unit that takes your pallet workflow to another level. 
The manual loading of your AMR inventory is no longer necessary when utilising the PALOMAT AMR system. Through independent communication, the PALOMAT® automatically stacks and de-stacks pallets onto the AMR, functioning as a pallet buffer and docking station.
PALOMAT® AMR dramatically increases the Autonomous Mobile Robot's workflow and eliminates time spent on manual pallet handling. Thanks to this ability, your workforce is able to better focus on high-valued work tasks rather than manually loading and unloading of AMR's.
Through the use of communication protocols the PALOMAT® AMR automatically informs the Autonomous Mobile Robot when to empty the pallet magazine. Furthermore, the PALOMAT® AMR runs on 230V power and can easily be moved around the warehouse floor if a change of location is needed.
The perfect partnership – PALOMAT® AMR
Time and cost-saving benefits are made by releasing manpower for more valuable tasks
Significantly improves the workflow of any Autonomous Mobile Robot by automating pallet handling
Correct and uniform stacking and de-stacking of the AMR
It is a fully automated pallet buffer and docking station
Ideal for streamlining your internal logistics and supply chain
Makes for a much safer working environment
Eliminates manual pallet handling
Easy Australia-wide installation and service provided by BBJ Materials Handling
100 % electrically powered from a 230V plug
Supplied documentation for easy implementation into your floor layout
It can easily connect with any Autonomous Mobile Robot