From Pallet Inverting and Storage to Automated Warehousing solutions BBJ Materials Handling can help you to streamline and automate your pallet workflow. Increase productivity while making substantial savings over conventional manual handling. See below for some of our solutions or call us today on 0422 464 176 to find out how we can help.
We carry stock of all our standard Premier Pallet Inverter range and they are ready to be despatched across Australia.
Our Pallet Inverter products are built to last no matter what demanding environments they are placed in. We also have an after-sales service that is prompt and technically knowledgeable at all times. If you have specific pallet inverter needs we will work to meet your requirements.
Pallet Dispensers are crucial to efficient pallet flow – no manual lifting of pallets
Reduced pallet costs
Increased efficiency
Reduced time spent per pallet
Fewer back injuries, jammed fingers and feet
Less truck driving
NEW: PALOMAT® AMR & AGV
The groundbreaking cooperation between the PALOMAT® pallet magazine and Autonomous Mobile Robots (AMR), lifts the workflow of internal logistics to an even higher level. We also offer the AGV option for use with Driverless Forklift Trucks which fully automates and streamlines the flow of pallets.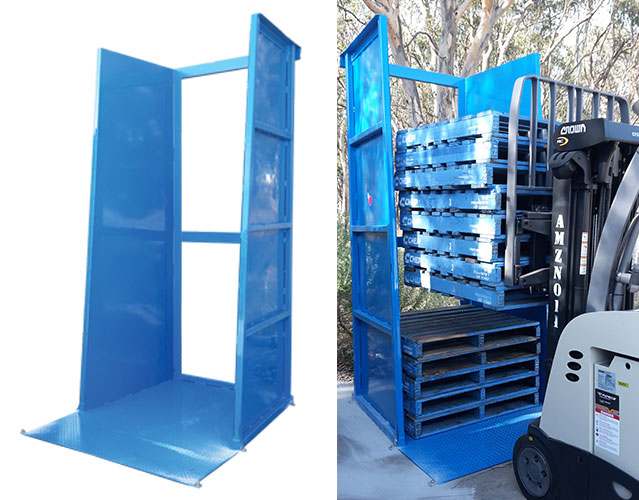 No-maintenance pallet straightening
The BBJ Pallet Straightener is used for straightening stacks of standard Australian pallets. The unique shape (1300mm at the front and tapering down to 1180mm at the rear), guides pallets into a tidy stack; reducing space between stacks when loading trucks, allowing easy loading of automated dispensers and promoting good pallet housekeeping.
Durwen AGV Attachments are built to withstand the toughest environments
Increase efficiency with the Durwen AGV Attachment range. The incredibly strong and adaptable Double Pallet Handler allows for two pallets to be handled at a time. The cost savings in running Double Pallet Handlers can be quite substantial. Call us to find out more.